What Can We Learn From Criminal Court TV?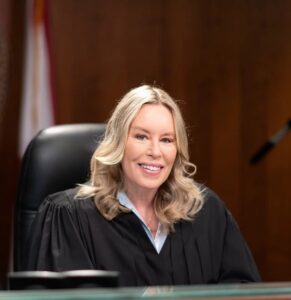 This hits a little too close to home. Now y'all know my (not so) secret love of reality TV and my passion for the law, but this story is a troubling mashup.
A Miami Judge, the Honorable Carroll Kelly, of the 11th Judicial Circuit, is facing ethics charges for allowing the producers of a reality TV show, Protection Court, to film actual domestic violence cases in her courtroom. This differs from other court TV that we're familiar with as this is an actual Circuit courtroom with a sitting Judge and the other court TV shows are typically cases removed from the Circuit court and brought to a binding arbitration proceeding through a former Judge. Judge Kelly's courtroom is essentially the set for a reality TV show.
A sampling of the cases featured on the Judge Kelly's show include a man who claimed that his girlfriend attacked him with Mace, a woman allegedly attacked by her mother, a man who allegedly stalked his ex-girlfriend, and a man accused of threatening to kill his brother and niece.
The Florida Judicial Qualifications Commission asserted that Judge Kelly "lent the prestige" of her judicial office "to advance the private interests" of herself or others.
The Commission claimed that Judge Kelly gave litigants minimal notice about waivers they would need to sign, in which the litigants agreed not to sue for defamation, invasion of privacy, infliction of emotional distress and other torts. Specifically, litigants were presented with the release shortly before entering the courtroom, the Commission alleged. LOL, we all know that every good release would have the litigants agree to pay attorney fees and costs incurred by the show's producer for any claims they brought.
Judge Kelly's lawyers accused the Commission of filing formal charges against Kelly to deter her and other judges from allowing the filming of hearings or trials for use in commercial productions.
Judge Kelly obtained an ethics opinion regarding the show. However, the opinion by the Florida Supreme Court's Judicial Ethics Advisory Committee stated that no judicial canons specifically address the topic of whether judges may permit court cases to be filmed and televised on a weekly basis.
We are in unchartered territory people, and it's happening right here in Miami. The case is ongoing and the issue at hand is whether this is a matter of judicial administration or judicial ethics. If Judge Kelly provides litigants with adequate time to review and digest the waivers, would that change the Commission's finding? Is this simply a procedural issue or is there an argument here intending to preserve the "prestige" of the court room?
Thoughts?
Call our real estate and estate planning lawyers today at (954) 832-0885 to discuss your real estate and estate planning questions. Schedule an appointment today by giving us a call.
You can learn more by clicking on the button below to visit our website.
Visit Our Website