What Can We Learn From Joe Robbie's Estate?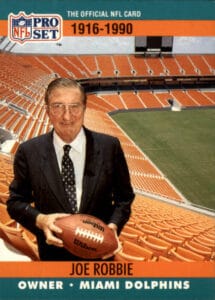 Joe Robbie, the former owner the Miami Dolphins passed away in January 1990. The bulk of his estate was tied up in the Dolphins, and he had clearly not been reading my newsletters. Riddled with family fighting, Robbie's children were forced to sell the franchise at a deeply discounted price in order to pay the reported $47 million in estate taxes. Despite estate and wealth transfer planning to avoid such scenarios, sometimes the estate tax happens.
As a response to franchise owners' estate plan woes, in 2015, the NFL allowed trust ownership of teams and dropped the percentage that owners are required to control to as low as five percent. An effort to keep teams in families and allow for better tax planning, reportedly, 31 of the 32 teams approved this change (with, ironically, only Tennessee abstaining.)
So what can we learn from this story? We already knew that trusts are a great tool, but most of us are not concerned with funding our trust with an NFL team. We are mostly concerned with a real estate property transfer into a trust. Which leads us into the very interesting world of the Florida Land Trust. A very underutilized tool, I propose the following benefits:
Privacy. The trust beneficiaries (the true owners) can remain anonymous, only the trustee's name appears in the deed in the public records.
Testamentary Powers. The trust agreement can specify successor beneficiaries in the event of the original beneficiary's death and avoid probate.
Homestead. Florida statute allows for a personal residence of a land trust beneficiary to be entitled to homestead tax exemption benefits.
Mortgage. In some cases, transferring a home encumbered by a mortgage to a Florida land trust will not trigger the "due on sale" clause contained in most mortgages.
Creditor Protection. A co-owner of beneficial interests in a land trust is generally not affected by judgments, bankruptcies, and similar matters affecting other owners. These matters do not affect title to the real estate, they may only affect the beneficial interest of the individual owner.
Ease of Transferability. The beneficial interests in a land trust can be easily transferred by means of a trust amendment and/or assignment document, without the formalities of a recorded deed.
Trustee Powers. Third parties dealing with the trustee of a land trust, including title insurers, need not inquire into the right of the trustee to sell or lease real estate in a land trust. This feature is useful to maintain the confidentiality of trust documents that would otherwise have to be recorded as part of a transaction involving other types of trusts.
It's not the best tool for every situation, everyone is different. It's always a good idea to see if the land trust is the right vehicle when thinking about asset ownership. So, while I spread the good word about the benefits of a land trust, please call me if you have any questions as to whether a land trust is the right vehicle for you. We're here for you.
Call our real estate and estate planning lawyers today at (954) 832-0885 to discuss your real estate and estate planning questions. Schedule an appointment today by giving us a call.
You can learn more by clicking on the button below to visit our website.
Visit Our Website