What Can We Learn From Dr. Dre's Divorce?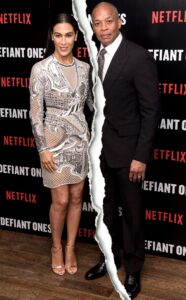 After 24 years of marriage, Dr. Dre (is he really a doctor?) and his soon to be ex-wife, Nicole Young, are calling it quits. Dre's lawyer recently filed legal documents asking for a five-day trial to determine the validity of their prenuptial agreement.
It appears that Young wants the prenuptial to be declared invalid as with the prenup, she's only entitled to what she had when she entered the marriage. Young is claiming that Dre tore up the prenup in front of her and told her that he regretted putting pressure on her to sign it. Dre, of course, has disputed these claims, and said there's a clause in the document that states that any alterations must be made in writing.
So, what can we learn from these two former love-birds? Firstly, the changes in writing clause is a standard clause, often found in agreements and VERY common in prenuptials because, well, attorneys know that love is crazy, man.
Secondly, and more importantly, we can learn from this kerfuffle to make sure to have the correct attorney for the job. In my humble opinion, a prenuptial (or postnuptial) agreement should be drafted by a divorce attorney that practices in the area of family law predominantly. You wouldn't want an estate planning/real estate attorney (such as I) to draft these types of agreements as this is a specialized document that requires considerable financial disclosure by the parties and potentially independent legal representation. Additionally, an attorney that defends or argues against these types of agreements regularly is ideal to draft your prenuptials as they know the gaps and nuances of the document.
Much like medicine, the world of law has become specialized and it's very important to have the right attorney for the job. If you have a question as to who can help you, give us a call. If we're not the right fit, we'll connect you to a specialist.
Call our real estate and estate planning lawyers today at (954) 832-0885 to discuss your real estate and estate planning questions. Schedule an appointment today by giving us a call.
You can learn more by clicking on the button below to visit our website.
Visit Our Website