What Can We Learn From Tony Hsieh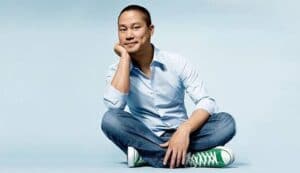 Tony Hsieh, the founder of Zappos, passed away this year after a tragic accident at the age of 46. Worth around $850 million dollars at his death, Tony has become well-known for the critical mistakes he made in his estate planning. It turns out Tony died without a will (of course!) and instead left "thousands" of sticky notes representing potential business deals and financial commitments all over his Park City, UT mansion. Tony also owned numerous properties in various states, often purchasing real estate for friends and family. It's unclear whether these purchases were gifts or personal investments. As we can expect, the creditor claims from the people he cared about are starting to trickle in already.
Just last month, his longtime friend, Jennifer Pham, filed a lawsuit against Hsieh's family stating that she was Hsieh's "right-hand person." She alleged, in part, that Hsieh's family had breached a contract seeking 10% of an anticipated documentary steaming service, totaling $7.5 million. Other LLCs associated with Pham had filed creditor's claims that listed more than $93 million owed by Hsieh's estate. They speak in millions like it's nothing….
Anyway, what can we here in Florida learn from this insanity? We can review the Florida probate creditor claims process! In the Sunshine State, there is a 2-year creditor period that begins from date of death. In short, if a creditor does not come forward within 2 years after someone passes away, they are barred FOREVER AND EVER AND EVER. We can also shorten that period to 3 months by publishing a notice to creditors in specific local newspapers.
However, just because a Florida creditor claim has been filed does not mean that the claim is automatically deemed valid and should be paid. The Personal Representative can object (must be timely) to the creditor claim(s), putting the burden on the creditor to bring an independent action upon the claim filed, outside of the probate process. And again, we learn that Florida is great place to both live and die.
I'm sure we're going to see quite a few "claims" against the Hsieh estate as more of his "long-time friends" and associates attempt to cash out. I expect that it will take several years before the estate is fully settled. It's very sad, but we learn yet again that a little planning goes a long way in this regard.
Call our real estate and estate planning lawyers today at (954) 832-0885 to discuss your real estate and estate planning questions. Schedule an appointment today by giving us a call.
You can learn more by clicking on the button below to visit our website.
Visit Our Website