What Can We Learn From Erika and Tom Girardi?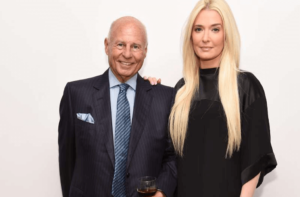 Just a few months ago, Erika Girardi (AKA the pop singer Erika Jayne of the Real Housewives of Beverly Hills) shocked us all by filing for divorce from her husband of 21 years, attorney Tom Girardi. Mr. Girardi is famous for his 1993 Pacific Gas and Electric Company case; yep, the same case that inspired the movie Erin Brockovich, with the one and only Julia Roberts winning the Academy Award. Mr. Girardi was regarded by his peers as one of the nation's top trial lawyers of all time.
A few weeks after Erika filed for divorce, the It's Expensive to Be Me, singer and her husband were slapped with a lawsuit from Edelson PC, a class action firm, claiming that the couple was "on the verge of financial collapse and locked in a downward spiral of mounting debts and dwindling funds." Oh man!
Tom and Erika are being sued for embezzlement and fraud, having allegedly embezzled SETTLEMENT FUNDS intended for families of victims of Lion Air Flight 610, which crashed in 2018. Per the lawsuit, they believe the Real Housewife star's extravagant lifestyle is to blame for their spending, and Tom is accused of having used his clients' assets to fund his family's ventures. YIKES!
Well, what can we learn from this mess? The Girardis, as residents of California, are under a COMMUNITY LAW property system which treats assets acquired during a marriage as belonging to both partners. Florida, on the other hand, is a COMMON LAW property system where assets acquired by one member of a married couple are deemed to belong to that person, unless they were put in the names of both spouses. The creditor liability varies from community law to common law states, but what about estate planning? As you know, spouses in Florida may NOT disinherit each other in the Sunshine State but this is due to gap fillers in the Florida Constitution and Statutes.
So what happens when we have a surviving spouse in Florida (a common law state) that was disinherited by his or her spouse, either by omission or intentionally through a will? Under Florida statute and the Constitution, a Floridan surviving spouse has several rights. The decedent merely needs to be a Florida resident for his surviving spouse to benefit, and the surviving spouse must timely assert their claim of elective share of the deceased spouse's estate, potential homestead rights, family allowance and / or claim of exempt property. The laws of intestacy, for those without a will, also protect the surviving Floridian spouse to the tune of at least fifty percent of their spouse's estate.
The Girardis are in a pickle for sure, their community law property status make it even more complicated for Erika to walk away from her husband's lawsuits and again we can conclude that it's great to live in Florida.
Call our real estate and estate planning lawyers today at (954) 832-0885 to discuss your real estate and estate planning questions. Schedule an appointment today by giving us a call.
You can learn more by clicking on the button below to visit our website.
Visit Our Website