What Can We Learn From Reese Witherspoon's Teacher Dispute?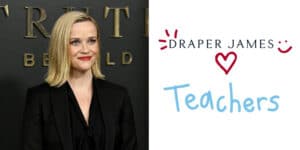 Does any good deed go unpunished? That's what Reese Witherspoon is probably thinking. I'm thinking that maybe she should have paid more attention at her Legally Blond training contracts-course.
Back in April 2020, Reese Witherspoon's brand, Draper James, shared an Instagram post inviting teacher to apply for a free dress. The initiative was meant to show some the universe some teacher love. But there are a lot of teachers in the US and over a million of 'em submitted applications. Wouldn't you know, Draper James only had 250 dresses to give away.
No one likes to be a loser, and so the teachers filed a class action lawsuit. Along with taking advantage of the COVID-19 pandemic, the teachers alleged breach of contract, promissory estoppel, restitution and various statutory claims under California law. Draper James moved to dismiss.
Other than not to mess with teachers, what can we learn from Reese's misstep? Well, it's very important to tell people when they're in a contract and when they're not. In Florida we see this with the Florida residential purchase and sale agreement. This is both the written offer as well as the contract. It's the one document used to outline the terms of a transaction between the seller and the buyer. Sure, we have addendums here and there, but the written offer is what becomes the agreement among the parties.
The words in Reese's original Instagram post, "apply," "valid while supplies last," and "winners" all suggest that there was no offer, rather it was a contest. However, the original Instagram post did not specify that there were only 250 dresses available and that's a big issue. This case is to be continued. In the meantime, you can find Reese donating heavily to teacher organizations and charities.
And they say that "law school is for people who are boring and ugly and serious." LOL
Call our real estate and estate planning lawyers today at (954) 832-0885 to discuss your real estate and estate planning questions. Schedule an appointment today by giving us a call.
You can learn more by clicking on the button below to visit our website.
Visit Our Website