What Can We Learn From Carole Baskin's Probate Problems?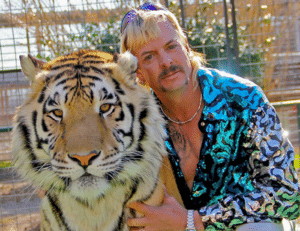 If you haven't wondered at least once this year, "Did Carole Baskin kill her husband?" we need to talk. In the Netflix show, "Tiger King," we were all introduced to the world of big-cat lovers featuring Joe Exotic and his arch-nemesis, Carole Baskin. (For real, if you haven't seen this show yet, do yourself a favor….)
Throughout the docuseries, Joe Exotic alleges that Baskin murdered her first husband, Don Lewis, and fed him to the tigers housed in their tiger sanctuary (yes, you read that correctly). Lewis disappeared a few months after having filed a restraining order against Baskin. As expected, Baskin was the sole beneficiary of Lewis's $10M estate, to the exclusion of his two children from his first wife. Due to the show's popularity, the case of Lewis's disappearance was reopened by the Hillsborough County Police. (Of course, this all went down in Florida.)
Most recently, the Hillsborough County Police Sheriff, stated that experts have determined that Lewis's last will was forged! Apparently, the forgery had been alleged when this case was first brought before the Florida probate court, although the judge preferred the evidence of Baskin's expert and held that the signature was not forged. (wamp-wamp-waaaamp).
But let's assume that the Judge didn't already rule on this exact matter, could Lewis's children bring a fraud cause of action? Lewis's children have a claim for tortious interference with expectancy of inheritance, but under Florida law, the statute of limitations would need to be analyzed; it begins to run when the facts giving rise to the cause of action were or should have been discovered. Even if the statute of limitations has expired in the probate courts, there may be an option to to challenge aspects of the probate in criminal or civil court.
What if the probate forgery challenge was timely, but the Judge dismissed the action? It matters if the Judge ruled with prejudice or without. WITH prejudice means that it is dismissed permanently. A case dismissed with prejudice is over and done with, once and for all, and can't be brought back to court. A case dismissed WITHOUT prejudice means the opposite, the case is not dismissed forever, and the petitioner can try again. In Florida, everyone gets one free dismissal without prejudice as it's assumed that new information will come up in these types of fact intensive cases.
Additionally, questions have emerged as to whether the notary was actually present for the signing in addition to the presence of the witnesses. If that's not enough, allegedly, Lewis's power of attorney includes a provision giving Baskin authority in the event of Lewis' disappearance. I'm curious if Baskin's attorney typically contemplates and includes "disappearance language" in his power of attorney templates, this is usually a document that we utilize for incapacitation.
I don't know about you, but I sure hope they capture the drama surrounding any probate challenge for a Season 2. The dramatic, emotional and frustrating story line is great content for television, especially with this lunatic cast of characters.
Just a few themes that could be explored are; will execution formalities, fraud in execution, forgeries, pet bequests, jailhouse-written last wills, slayer statutes, conservatorships, statutes of limitations and undue influence. I can talk about this for days, if anyone reading this knows the producer, tell 'em to call me. Oh, and YOU call me with any estate planning, real estate law or probate questions 🙂
Call our real estate and estate planning lawyers today at (954) 832-0885 to discuss your real estate and estate planning questions. Schedule an appointment today by giving us a call.
You can learn more by clicking on the button below to visit our website.
Visit Our Website