What Can We Learn From Cardi B's Tattoo Snafu?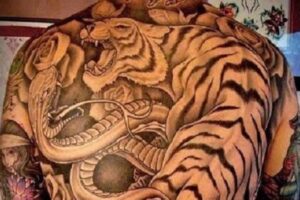 Cardi B is heading to court to defend the picture on her first album, Gangsta B—h Music Vol. 1. Kevin Brophy Jr., is suing Cardi B for $5M and alleging that she misappropriated his likeness by using his back tattoo as part of the album artwork. He argues that Cardi B used the tattoo in "a misleading, offensive, humiliating and provocatively sexual way." Both parties in the lawsuit have already acknowledged that Kevin's tattoo is the one featured on the album.
Although Kevin's tattoo is shown, the image on the album is not actually of his back. The tattoo is Kevin's but the back is a male model's. This is where it gets dicey. One of Kevin's biggest complaints is the fact that the model in the image is performing an intimate act on the album cover (ay, yayay!).
Cardi B tried to have the Court case dispensed before it even got started by initiating a summary proceeding. Cardi B argued that using the tattoo was not illegal as enough changes were made to the image used. The Judge denied Cardi B that argument, saying that a jury could find that those changes were not sufficiently transformative. There's no way around it, Cardi B is going to have to defend her case in court.
So, what can we learn from this lawsuit? We can learn that there's an idea of a summary proceeding to have the judge rule on whether there's merit to the lawsuit even before it gets going. But we also learn a larger lesson, that if you're going to do something controversial, it's important to get consent. This lesson can be taken into the estate planning world.
If we are putting an estate plan in place where we know others may get offended or dislike our decisions, it's always better to provide notice and make the respective parties aware. While you're alive, you can defend your estate plan. Additionally, quite often, it's the element of surprise and missed expectations that cause familial problems. Once everyone is aware and on notice, it's much easier to accept a less than desirable outcome. There are many ways to make our families aware of our wishes and every family is unique and has their own norms, but a clear and well communicated plan is almost always preferable to avoid issues.
I wonder if Cardi B's Court nemesis would have consented to the use his back tattoo if only she would have reached out and asked first….
Call our real estate and estate planning lawyers today at (954) 832-0885 to discuss your real estate and estate planning questions. Schedule an appointment today by giving us a call.
You can learn more by clicking on the button below to visit our website.
Visit Our Website