What Can We Learn From Larry King?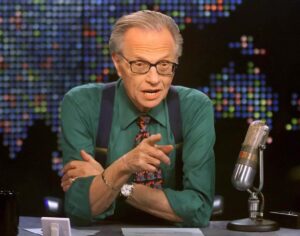 One of pop-culture's favorite newsmen, Larry King lived a colorful life (married 8 times!!) and his estate is proving to be just as exciting (Well, at least for me, lol). It turns out that he scribbled down a few sentences during his last divorce. As every reader of this blog already knows, a handwritten last will in Florida is not valid, but in California, it just may work. Regardless, the hand-written nature of the will is not our lesson for today.
King's chicken scratch, written in 2019 and 2 months after filing for divorce from his latest wife, was only two sentences long. As expected, King directed his estate is to be "divided equally among my children Andy, Chaia, Larry Jr Chance & Cannon."
Sadly, two of his adult kids passed away after he wrote the will. So, Larry's last will and testament doesn't reflect the fact that 2 of his intended recipients have passed away AND he was in the middle of divorce proceedings at the time of his death. (Ay Yai Yai, these celebrities!)
So, how would this insanity be handled if King was a Florida resident? In the Sunshine State, a gift to a deceased beneficiary will go away (or lapse), unless it's protected under the "anti-lapse statutes". If the bequest lapses, it becomes part of the deceased's estate, to be distributed to the other beneficiaries per their original percentages. There is an anti-lapse provisions that a gift will not lapse if the beneficiary has died and was a descendant of a grandparent, as in King's case. In King's situation, the assets go to the lineal descendants of the deceased beneficiary, such as children and grandchildren. In short, in Florida, King's grandchildren (if there were any) would inherit their deceased parent's share, otherwise the surviving children would split the gift in equal shares.
But wait, there's more. There's the pending-ex-wife to deal with. In Florida, it's not possible to completely disinherit your spouse until the divorce is complete. Under Florida Law, a surviving spouse is entitled to a life estate in the primary residence of the deceased spouse and can claim up to thirty percent of the value of the spouse's total estate. The surviving spouse's rights are not affected while a divorce is pending, only upon its completion. These rights can only be waived by a pre or postnuptial agreement. This is why a well written pre or post nuptial agreement has provisions as to what happens when a spouse dies pending a divorce (and why I don't handle family law LOL)
To that effect, King's estranged widow, is petitioning to become the executor of his estate based on Larry's 2015 will. This is to be expected, While Larry had a few trusts set up, his probate-able estate is estimated at $2M. I'm curious to see what will be left after the fight 😕
Call our real estate and estate planning lawyers today at (954) 832-0885 to discuss your real estate and estate planning questions. Schedule an appointment today by giving us a call.
You can learn more by clicking on the button below to visit our website.
Visit Our Website