What Can We Learn From Liza Minnelli?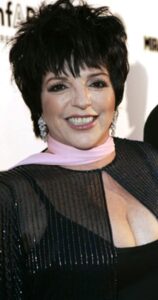 Liza Minnelli's childhood home has a story worthy of this blog. 
Built in 1925 the Beverly Hills mansion was purchased in the mid-1950s by Liza's father, Oscar-winning director Vincente Minnelli, following his divorce from Judy Garland. During her childhood, the former couple's daughter, Liza, spent much of her time at the house.
Liza's father, at his passing in 1986, left the property to Liza and a condition that his fourth wife, Lee, should be permitted to live in the house for as long as she desired (that sounds very ominous to me!) The will gave Liza wih the property with instructions that Lee would be allowed home for the rest of her life. The ambiguous arrangement seemed to work until 2000 when Liza wanted to sell the property. Lee was offered a condo but turned it down and was determined to stay put (even when the house was sold in 2002!).
Things escalated when Liza stopped paying the bills on the house. The staff, no longer paid by Liza ended up working for free. Lee filed a lawsuit against her stepdaughter alleging elder abuse and breach of contract, but dropped the case when Liza agreed to pay the new owners rent so Lee could continue to live in the mansion. Lee died there in 2009 and the once famed mansion was left in a state of decay.
So, what can we learn from this cautionary tale?
A properly written trust could have thought out these scenarios and accounted for who would pay for the maintenance of the property as well as what can force a sale or whether a trustee can decide to sell the property. Just providing a condition allowing someone to live on a property for life is sometimes a good option, but when the parties aren't related or simply not aligned, it makes sense to specify all the foreseeable terms.
Our trusts identify who can make the decisions, what those decisions are and when those decisions can be challenged. When it comes to real estate, we know that it's hard to predict the market. Sometimes it's a good time to sell, sometimes not so much. We typically leave our trustees with broad powers as it's hard to predict the future. With that said, every family is different and every trust is unique. It's important to discus your goals with your estate planning attorney to ensure that everyone is protected and there is room to breathe.