What Can be Learned from Katy Perry's Real Estate fight with G-d?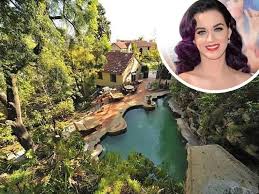 She actually fought with two Catholic nuns, but almost the same thing, no?
Katy's woes began in 2013 when she brought a convent that had been home to the Order of the Most Holy and Immaculate Heart of the Blessed Virgin
Mary, a sprawling eight-acre estate located in the hills of L.A, for $14.5 million. According to two nuns who'd lived there, Sister Catherine Rose Holzman and Sister Rita Callanan, the Archdiocese did not have the right to sell the joint as the sisters had bought it from the Archdiocese in the 1970s.
Adding insult to injury, the nuns disapproved of Katy's overtly sexual public image and claimed she was the WORST POSSIBLE PERSON to buy the convent. In July 2015, a judge ruled in favor of Katy and the Archdiocese, and a Los Angeles Superior Court judge also ruled that the sisters had no authority to sell the estate, citing a rule that requires the Vatican to approve any church property sales over $7.5 million.
The drama continued and additional court rulings awarded Katy and the Archdiocese monetary compensation for their legal fees. During a courtroom break, 89-year-old Sister Catherine Rose spoke to a FOX 11 News reporter about the matter, saying, "Katy Perry, please stop. It's not doing anyone any good except hurting a lot of people." Just hours later, the nun collapsed and died at the courthouse.
Sister Rita later told the New York Post, "Katy Perry has blood on her hands." The convent was put back on the market and Sister Rita vowed to keep fighting an Archdiocese sale. The saga continues.
The lesson here, is if you're planning on purchasing a house of G-d, you must make sure you have buy-in from all parties, they're not playin'.