Is There Such a Thing as a Family-First Family-Feud?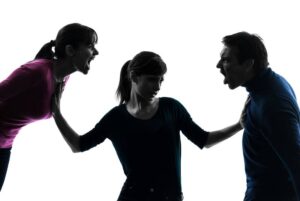 I'm attempting to negotiate my first family-first approach to a family feud. This is where during the family feud process, specifically the beginning, the family takes a family-first, or rather, business first, approach to their control battle.
I see it quite often, and it may actually be a known thing that I'm about to describe, but for me it's a new idea. I'm going to explain to two family heirs that if they take this family-first approach and agree to move forward with the probate and allow someone to be appointed the Personal Representative (PR), there will be PLENTY of opportunity to continue the feud. The fight doesn't ever have to end with the PR designation. I'll explain to both sides that the PR has a duty to uphold and can always be sued for…..yep, breach of duty. Their fight can go on and on, I'll assure them of this and we'll even put it in writing (I am a lawyer, after all). However, the business continues to move forward through the process of probate and allowing a PR to be appointed and so on.
The actual asset that the two parties are fighting over gets to increase in value while the parties duke it out in court for however long their little hearts desire. In fact, I suspect that successful family businesses often take this approach when there is a disagreement. They fight for whatever they want, but all parties continue to support the asset they're fighting over.
Now, I suspect that this business-family first approach would be certain to grow an asset as both parties are conspiring WITH the business, rooting for its success. I also expect that after a few years of no breach in duty, maybe the trust that was the cause of the underlying feud would be restored and the family-first family-feud turns into only family-first approach. I maybe dreaming. LOL
Let me know your thoughts…Maybe I'm asking for too much differentiation or I've missed a critical barrier, but I'll be sure to keep you posted.
You can learn more by clicking on the button below to visit our website.
Visit Our Website